For those who have a love for nature, it's likely that they have a vast garden filled with vibrant flowers that take their breath away each day. They may even take a daily stroll to bask in the sweet fragrance and marvel at the stunning beauty of their garden.

But if you don't have a gar[...]
Add To Cart
Add 8 Balloons for $42.95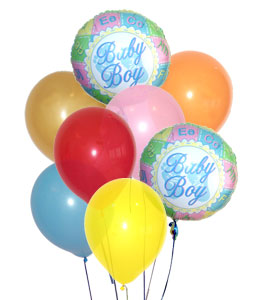 For those who have a love for nature, it's likely that they have a vast garden filled with vibrant flowers that take their breath away each day. They may even take a daily stroll to bask in the sweet fragrance and marvel at the stunning beauty of their garden.

But if you don't have a gar[...]
For those who have a love for nature, it's likely that they have a vast garden filled with vibrant flowers that take their breath away each day. They may even take a daily stroll to bask in the sweet fragrance and marvel at the stunning beauty of their garden.

But if you don't have a gar[...]
For those who have a love for nature, it's likely that they have a vast garden filled with vibrant flowers that take their breath away each day. They may even take a daily stroll to bask in the sweet fragrance and marvel at the stunning beauty of their garden.

But if you don't have a garden of your own, there's no need to worry! Our Garden Parade flower bouquet is aptly named because it will make you feel as if you're walking through a lush garden.

This exquisite bouquet features an array of stunning flowers, including striking red miniature gerberas, purple statice, gorgeous yellow roses, matsumoto asters, and alstroemeria.

Yellow roses are known to evoke feelings of optimism and are a heartfelt way to celebrate your friendships with special people in your life. The color yellow is also associated with the sun and is believed to foster feelings of warmth and affection. The purple statice adds a striking contrast to the other warm-colored flowers, and like its rich purple hue, it holds a significant meaning, symbolizing extravagance, royalty, and nobility.

The red miniature gerberas are a perfect expression of deep love and affection for someone who holds a special place in your heart. The matsumoto asters, with their star-shaped flower heads, add to the expression of love, as they also represent love, wisdom, and faith.

Chrysanthemums, with their rich history of stories and symbolism dating back to the Greek era, are also featured in this bouquet. They are often used as a symbol of love and optimism, and in Japanese culture, the unfolding of the chrysanthemum petals signifies perfection and flawlessness.

The Garden Parade bouquet is a true work of art and is nothing short of pure beauty. It is a favorite among our customers, so make sure to order one for your loved one today. Our local florists will deliver the most stunning bouquet right to your doorstep, and if you wish, you can even opt for same-day delivery.
Item No. T41-1A
Price: $74.95